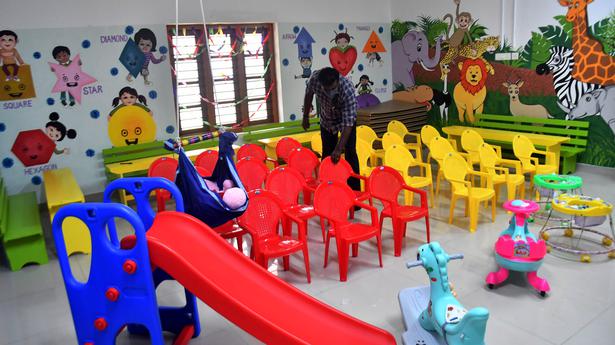 The PSC office has one from Wednesday, and Kinfra Park is planning one.Offices with more than 50 employees

Nabeesu M. had to leave his young children with a Nagalur woman if he wanted to work every day. If the nanny did not appear, the child had to be sent to her husband's brother's house. Nabase, who had a daughter after a long marriage, was always worried about her daughter's health.
In January, she heard that a daycare center was finally opening at the Kerala Public Service Commission (PSC) office where she worked. That was enough for the Nabes family to move to Tokyo in March. Five months later, the PSC office nursery is ready to open on Wednesday. Her Nabeesu, a computer first-grader her assistant, is overjoyed.
"The day care center is a blessing for working women who are raising children. You can always see how she's doing."
PSC office attendant Sreedevi V. says he couldn't hold back tears when he saw the daycare center ready to welcome the children. Sreedevi plans to leave her 1.5-year-old granddaughter in daycare. This is because her daughter is attending her coaching class. There is no one else to take care of this child in her Powdikonam where they live. She said, "She was a long-awaited child. It's an answer to prayer."
So far, 26 people have enrolled in the child care facility. The nursery has "teachers" and helpers on the Anganwadi line. A pediatrician visits once a week.
25 more childcare centers

Officials from the Department of Women and Child Development said 25 such childcare centers will be set up in workplaces this year as part of a national daycare plan. These are set up in government/government offices with 50 or more employees (male or female) in accordance with the Maternity Benefits (Amendment) Act 2017. they say.
Another daycare pops up here in Kinfra Park. Her 3-year-old son is being cared for by her mother at her Attingal, according to her operator, Devu V. Ltd., at Bodygear International Pvt. "With the daycare, I can bring him to my place of work. He will also get from the company of other children. So more women will be able to work."
Nearly 10 women at Bodygear have enrolled their children in daycare, and more company employees are expected to participate. It will increase when the daycare opens," said Jeeva Anandan, the park's chief executive officer.
Minister for Women and Children's Development, Beena George, will open the first daycare at PSC at 11am on Wednesday.