When Michael W. Twitty talks and writes about food, he goes beyond creating delicious gastronomic delights to whet the palate. Master His Chef and renowned culinary historian, he strives to satisfy the soul by transforming his unique blend of culture, tradition, identity and social justice into an enchanting feast that celebrates humanity. I am aiming. His latest book, Kosher Soul: A Journey of African-American Jewish Faith and Food, explores the food and traditions of his two diasporas that encompass his identity.
"I wanted 'Kosher Soul' to be a love letter to being black and Jewish as we are in this country right now," he said. "This book is like a challah: a long tale of food memoirs, recipes, personal essays, human vulnerabilities, and the intersection of black and Jewish history and culture. This is not an academic journey, nor is it intentionally a cookbook: it is an eclectic recipe file of diverse and complex people."
black, jewish, gay, southern
Twitty has written powerful stories about the many dynamics that inhabit his intersection, including blacks, Jews, and gays with Southern heritage, while always confirming his quest for a more just society.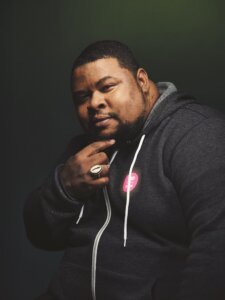 "My greatest hope is in the ingredients that blacks and Jews bring to the table," he said. "Onions and satire. Garlic and sarcasm. For those who have suffered and suffered so much, we know how to laugh. We know how to celebrate. We know how to eat." We know how to entertain, we understand the power of analysis, deep thinking, and a critical approach, and it's very important, and it's all woven into our work. Knowing these are part of the recipe keeps me motivated."
In the preface, Twitty describes "Koshersoul" as "the second in a trilogy about the intersection of food and identity." His first book, The Cooking Gene, explored race by tracing Twitty's black and white ancestry through Southern cuisine from Africa to America, slavery to freedom. He was named the 2018 James Beard Foundation Book of the Year.
The new book is "chicken soup for the soul," he said. We're still here, we're still alive, we're still hopeful, we're survivors of original sin in the West, that's what I wanted to bring to the fore, and that other Jews Along with that, I wanted to convey the fact that we are still dealing with anti-Semitism."
Preservation of historic esophagus
Twitty is one of the few globally recognized experts in his craft, a reconstruction of early Southern cuisine prepared by enslaved African-American cooks. He was voted one of his best food bloggers ever by FirstWeFeast.com. Afroclinariawas the first blog dedicated to preserving historic African-American food and esophagus, and was one of Southern Living's 50 People Changing the South.
A Washington DC suburban resident, Twitty was one of 20 globally selected TED Fellows in 2016 for his talk, "The Realities of Gastronomy and Food Social Justice." His television appearances include "Bizarre Foods America" ​​with Andrew Zimmern, "Many Rivers to Cross" with Henry Louis Gates Jr., "High on the Hog" with Stephen Satterfield, Michelle Obama 'Waffles + Mochi'. He was a National his geographic explorer and Colonial his first revolutionary stationed at the Williamsburg Foundation.
The goal of "Koshersoul" is to "remove all labels, not create new ones. We want people to understand that cooking in a kitchen or professional space isn't everything." People are used to seeing one lens, so we need more writing than just recipes from different peoples and different cultures."
Introducing Jews of Color
"Koshersoul" features prominent Jewish voices of color, including Tema Smith, Director of Jewish Outreach and Partnerships for the Anti-Defamation League. Yavilah McCoy, activist, educator and founder of Ayecha. Ayecha is a non-profit organization that provides educational resources to Jewish diversity and advocates for Jews of color. Tony Westbrook, Hillel's assistant director at Washington University in St. Louis; Shais Rishon, an orthodox rabbi. Chava Shervington, a black Jewish cook.
"Like the people in these pages with whom we've shared part of our lives, 'kosher soul' is not to be taken at face value." It's the legacy they want to leave to people and their lives, and to two humanitys where the forces of tradition and heritage loom large, even if the choice is to forsake or change direction."
"Living in a Venn Diagram"
He is moving about his own journey through Judaism, being "kippah among blacks," teaching Hebrew schools, and consistently promoting an expanded perspective of intersecting identities. I am writing to "The bottom line is that people think they can succinctly define a Jew or a Negro, and they inherently know they're bigger than any color or religion. Factors come in. Caste, class, phenotype, ethnic type, genotype, personal choice, geography, and region all go to define these elements of being black and being Jewish. Let's admit the fact that it lives in a certain place in many worlds, in a certain Venn diagram, and many people live that way, so it's not that complicated, but other people's Dealing with interpretation is really exhausting.
Twitty speaks candidly about the struggles that come with his multidimensional life. "I use all my senses and experiences to process trauma and try to become a fuller, better person. "Perhaps they have such a hard time imagining that someone like me is a full-dimensional individual." " and some people want to know a little recipe secret. It's like telling a black athlete, "Shut up and play and make me laugh and dance." I didn't ask you for all that.
"Oh, I'm sorry," Twitty continued. "I didn't come to be. Food is not apolitical. Food is not cultural. Food is not separate from our history."
Food as a global passport
"Koshersoul" offers food as a passport to a better understanding of the complexities of Jewish identity on a global scale. In what he calls "community his cookbook," he includes "kosher soul" collards, Caribbean compote, yum kugel, cowpea bean hummus, Berber brisket, kosher Cajun rice dressing, and Senegalese-style chicken soup. , and a "kosher soul" mac and cheese kugel.
His work is fueled by a vision of cultivating love and connection. "We need to feed people on multiple levels: physical, mental, spiritual and social. Food heals us and helps us bond as a family."
Some sections of the book, he explains, are anecdotal, while others are "more prayer-like. I wanted a literary structure that reflected the way we had conversations around and related to each other.This setting helps defuse tension and makes it easier to have these strong conversations. is what I want to do with this book."