Hibernian head coach Lee Johnson has welcomed the return of his 'Rovers' Roy' after Martin Boyle came off the bench to score the equalizing goal in the 95th minute in the Edinburgh Derby.
Lawrence Shankland's first Hearts goal looked to give the visitors a Scottish Premiership victory amid allegations that he used his arm to control a pass for Barry McKay .
However, Hibs summoned a late siege and Boyle. returned to the club The day before – stabbed to death a fan who rushed to the pitch to celebrate.
"We were really brave as a team with tactics and substitutions," Johnson said.
"It was a bit of a risk to have Martin on board for so long, but we know what he can do and he's come back like Rovers' Roy at the right time.
"It was important that we didn't lose the game and to go 1-0 down with five minutes of stoppage time feels like a victory."
Hearts extended their unbeaten derby run to seven games, but it was no consolation as they regretted not making the most of their second-half dominance.
A dramatic draw gave both teams four points from their first two league matches.
Robbie Neilson changed the shape of Hearts, starting with a four in the back, and as his team found their rhythm, Shankland slipped past David Marshall's feet after knocking over McKay's clipping ball, giving way to the first. scored on a real chance. Debate raged over whether the striker used his arm in the build-up.
The Hive responded well at first, with Joe Newell firing a shot and Ellie Yuan finding Craig Gordon in his usual long-limbed spider-like good form and stopping it brilliantly from a forward header.
After half time it was Marshall's turn to save the side as Hearts tried to kill the game. The Hives keeper created a close-range block to deny Shankland and McKay.
The absence of a second goal gave Hibs credibility. Boyle pulled away from the desperate Hearts defense, but his timid shot was deflected back.
It wasn't the last action, as Youan had good pace and scored a cross chance, while Boyle sent a low shot that sent the Hibs fans into a frenzy.
Man of the Match – Martin Boyle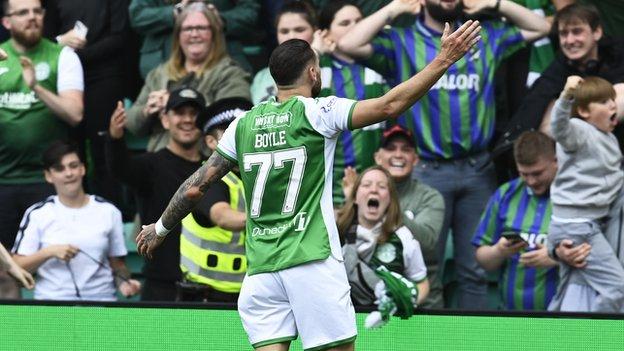 Hart can't create chances because Hib clings
Hearts and Hibs fans will usually agree that the Edinburgh Derby is high in spirit, blood and thunder, but often low in quality. Sometimes it takes a little magic to win.
Shankland's outside-foot finish looked like game-defining magic.
Hive these days lacks that magic. Since January to be exact. So when whispers of Boyle's return were heard on Easter Road, excitement mounted. He was delivered much faster than anyone expected.
Even Johnson, who only registered at 11 p.m. the night before, admitted he didn't think Boyle would be involved in the game.
Instead, the Australian national team's return home ended in heroic circumstances.
Hearts fans may lament the change of manager when trying to blame something or someone.
what they said
Hibernian winger Martin Boyle: "It's one of the best feelings. Pre-match reception, warm-up, start of the game, but it was the decoration of the cake. I'm really happy to help the team reach the point it deserves.
"I got a call last night saying I was eligible to play and asked if I liked it.
"he [Johnson] He nodded at me and asked me how I felt. I knew the adrenaline, the buzz of the fans, and the magnitude of the game. I knew I was ready, so I showed it.
Hearts Manager Robbie Neilson: "We are devastated that we didn't get the three points. Except for the first 10-15 minutes, we dominated the game."
"I was completely in control and had a few chances to score a second or a third but I didn't take them. I paid the price. I should have crossed the line and I didn't. "
what's next?
Hearts host boss Neilson's former club, Dundee United, is next Sunday, with the Hives traveling a short distance to Livingstone the day before (both at 15:00 BST).