Writer, director and actor Steve "Spike" Wong remembers when he wanted to tell a story.
He was about five years old and was on the Jungle Cruise attraction at Disneyland with his parents. He says he was able to convince them that the animatronic hippopotamus on board was real.
"My parents never completely shut my imagination," says Wong. "They let me go with it."
Wong was born in Watsonville in 1952 after his father's parents landed in Watsonville as farm workers and cannery workers. After graduating from Watsonville High School in 1970, he attended the Honors English Program at Chico, California. Eventually, he returned to his hometown and became a teacher at Watsonville High School.
"When I grew up in Watsonville, it was really small there," he says. "There were less than 10,000 people. Almost every family recognized at least another family group. It makes perfect sense to return to teach at Watsonville High School."
Throughout his life, Wong has written, directed and acted in numerous plays, including those that have been staged off-Broadway in New York. his latest, White Sky, Falling Dragonwill open at the Mountain View Center for the Performing Arts in just a few weeks.
The story is inspired by the struggles of Wong's father, Captain Ernest Wong, who returned to Watsonville after World War II. A Cantonese youth faces emotional challenges after a tragedy strikes during his final war mission. His cultural and family obligations constantly clash with his quest to settle in America.
"The play takes facts from my father's experience and creates a kind of fictional story on top of it," Wong explains. "The most surprising thing about writing this is that from the beginning I thought that my grandfather was the main character in the story, but it was my grandmother. I spent it at home.In my heart, I think her strength has always been in me.The way she came out in this play is powerful."
Wong was a freshman in Chico when he wrote his first play. But he said things didn't change until he turned 55 when he visited China for the first time.
"When I got to China, suddenly all the things I had put aside in my life…all of them started talking to me," says Wong. I started writing more about what I lost.I grew up in a country where there is still racism against Asians today."
In 2016 Wong wrote dragon skin, Premiered at the 2018 Eight Tens @ 8 Play Festival in Santa Cruz. His monologue, which covered 50 years of his life in just 10 minutes, was later staged at the Marsh Theater in San Francisco.
at the premiere of dragon skin, Wong realized the impact of his work.
"At the reception on the opening night, this burly dark old man approached me, held out his hand to shake my hand and said, 'I'm Greek and the play was my story,'" Wong said. said. he says. "I realized that I could write as honestly as possible from my cultural background and that it would be a universal, human story."
the idea of White Sky, Falling Dragon I came to Wong in 2017 when I was abroad in Barcelona, ​​Spain.
"Suddenly I heard my father come into the house and say hello to my grandmother," he says. "I pulled out my phone and typed in a line. All of a sudden all these things started happening."
Wong tried to answer the following question. How did your father feel when he returned from the war?
"He was the target of racism," he says. "When the war was going on, the Chinese Exclusion Law was still in force.
Funded by Won White Sky, Falling Dragon He himself began looking for suitable set designers, producers, and an all-Asian cast. The play features live music with Chinese instruments and visual effects.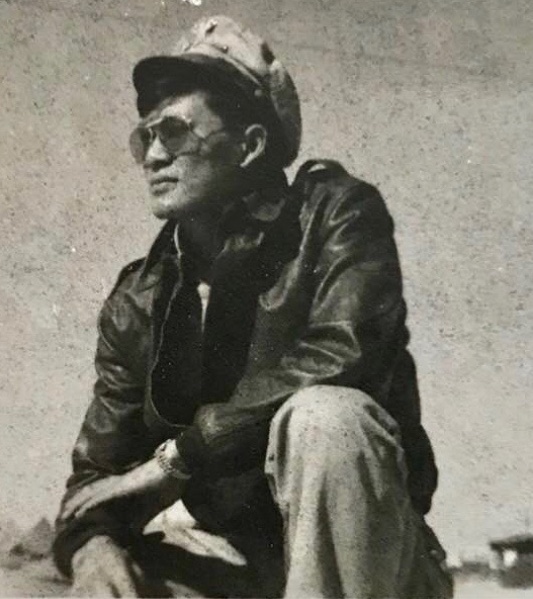 "It's peculiar to Cantonese-Chinese Americans in small towns, so I couldn't leave it to someone else," he says. "I didn't have a board [of directors]I had to take the plunge and say, "OK, I can do this." Early on, people came to me wanting to work on this project. The play fascinated people. But it wasn't me they were looking at. It was the story, the humanity, the power behind it. "
Wong is "as ambitious as ever" about the project.
"It's not just me," he says. "It is all my ancestors who helped bring one man into this country. Play is everything to them, I'm just the vehicle."
"White Sky, Falling Dragon" runs August 26-27 and September 1-4 at the Mountain View Center for the Performing Arts. A free reception will be held on the first night after the performance. Tickets are available at mvcpa.com. For more information, visit soaringdragon.net.