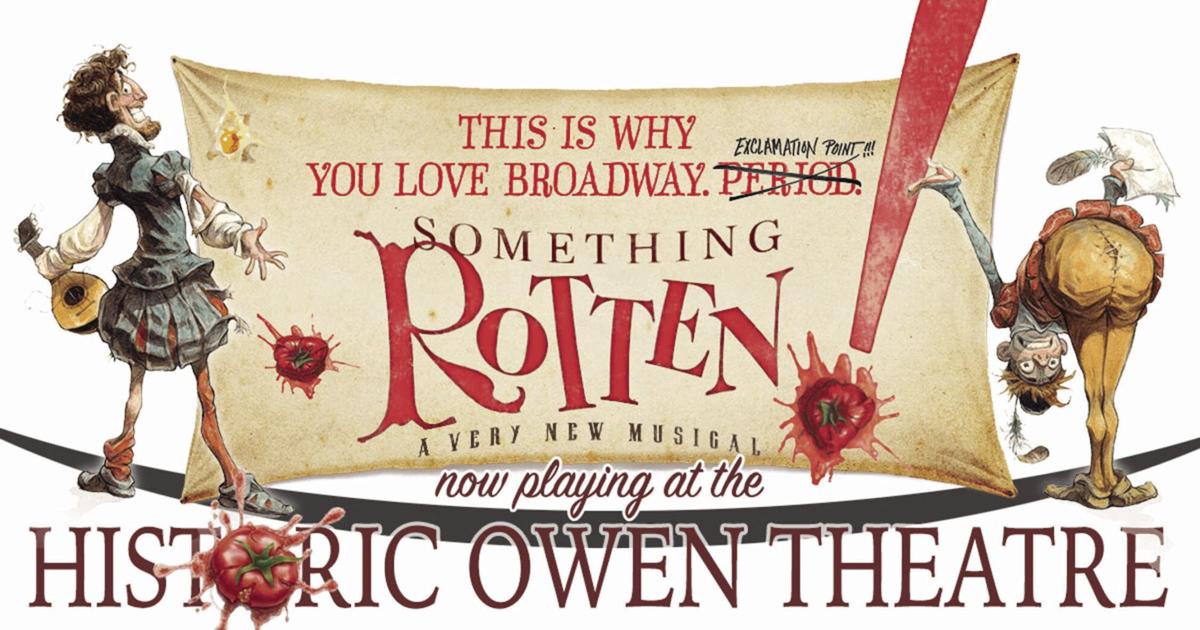 This week, the Branson Regional Arts Council will cast Something Lotten at the Historic Owen Theater in downtown Branson.
Created by Grammy-winning songwriter Wayne Kirkpatrick and successful screenwriters Karey Kirkpatrick and John O'Farrell, Something Rotten received some of the best music nominations from Time Out New York. It was praised as "the most entertaining musical comedy of at least 400 years."
Something rotten was produced by Curry Dyckman and Kim Hale and directed by Jacob Estes. They include Caitlin Secret as music director and Kristen Dust as choreographer.
"I was very surprised by the amazing hard work and dedication from this cast and crew," Estes said. "This show will be for books! You won't want to miss this hilarious show, which should be one of your new favorites."
Musical performances will be held on Thursday, July 28th, Friday, July 29th, Saturday, July 30th, Thursday, August 4th, Friday, August 5th, and Saturday, August 6th. It will be held at 7 pm. Performances at 2:00 pm on Sunday, July 31st and Sunday, August 7th.
"Set in the 1590s, the Nick and Nigelbottom brothers began writing the world's first musical with this hilarious mashup of 16th-century Shakespeare and 21st-century Broadway. They desperately write hits. But it's trapped in the shadow of a rock superstar in the Renaissance, known as the troupe, "says the musical synopsis. "When a local fortune teller predicted that the future of theater would include singing, dancing and acting at the same time, Nick and Nigel began writing the world's first musical, but in the scandalous excitement of the opening night. So, Bottom Brothers recognizes that reaching the top means being loyal to yourself and all that jazz. "
Due to cast availability, some notable roles are shared. Please contact the box office revenue for the performance dates of specific cast members.
Something Rotten's cast includes Joey Fagion (Nick Bottom), Henry Lange (Nick Bottom), Ryan Hippe (Nigel Bottom), Cade Gantt (Nigel Bottom), Juli Biagi (Beatrice). He has the talent of Grace Duncan (Beatrice Bottom). / Antonio), Michael Phillips (Shakespeare), Brian Miller (Shakespeare), Blake West (Nostradams and Minstrel), Benjamin RK Wegner (Nostradams and Minstrel), Catherine Kennedy (Portia), Emily Hanner (Portia and Antonio), Jacob Deck (Portia and Antonio) Jeremiah Brothers), Jose Delatore (Jeremiah Brothers), Sieg Sidwell (Shyrock), Nathan Irwin (Sir Klapam), Carter Hendrickson (Peter Quince / Male Ensemble), Dylan Watley (Tom Snout / Male) Ensemble), Aaron Deornellis (Robin / Male) Ensemble), Wyatt Manji (Snag / Male Ensemble), Cary Dominish (Francis Flute / Male Ensemble), Briton Sidroski (John / Male Ensemble), Talia Tinoco ( Ensemble), Megan Rogers (Ensemble), Emma Sparling (Ensemble) Gantt (Ensemble) and Ashley Rogers (Ensemble).
Seats are limited and pre-booked tickets are offered at BransonArts.org/tix or by calling the Historic Owen Theater Box Office at 417-336-4255.
Admission for all is $ 17 (adults over 18 years old) and $ 14 (young people 4-17 years old) locally. Due to the rating of the work being PG-13, some materials may not be suitable for children under the age of 13.
For more information, please visit bransonarts.org.
..