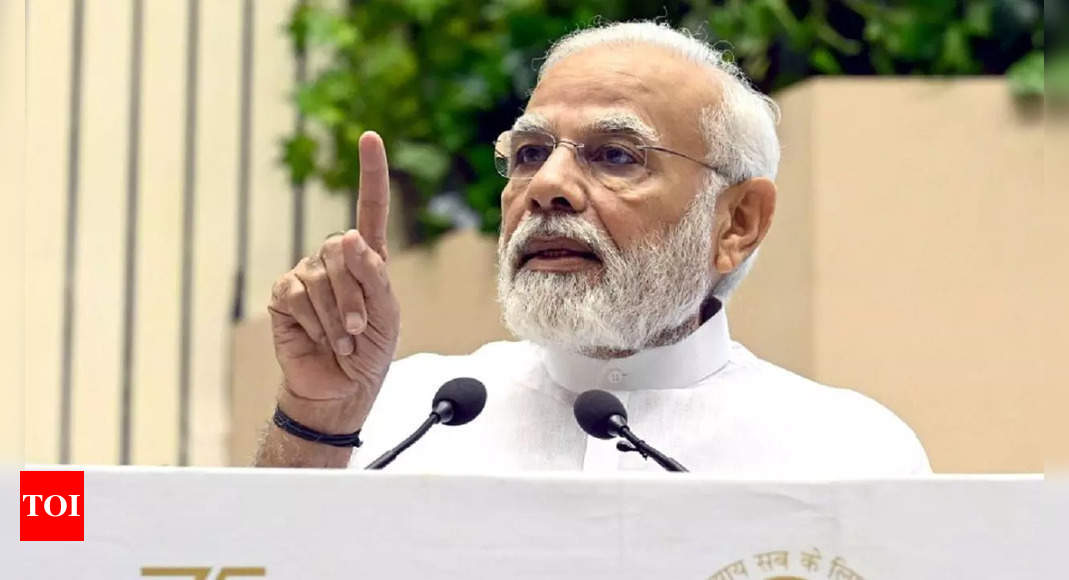 NEW DELHI: Prime Minister Modi on Saturday doubled down on his opposition to the 'freebies' culture and flagged rising membership fees for the electricity distribution company (Discom) as an imminent danger.
Launched Clutch of NTPC's Renewable Energy Projects with Rs 30 crore package for electricity distribution sector reform, Discom has pledged Rs 100 crore to power generation companies as government sector power tariffs have not received promised subsidies He pointed out that he owes more than that. And municipalities in cities remain unpaid.
He said losses in India's power sector have reached double digits, while the developed world remains in single digits.
"This means that we have wasted a lot of electricity, and that means we have to produce more than we need to because of it," said the project.
He also issued a warning against giveaway culture in politics – the second time this month a prime minister has attacked what he calls the practice of using giveaways for voting at the expense of long-term development. His first salvo on "culture" came on 16 July when he opened the Bundelkhand Expressway.
The warning was amplified by the Supreme Court on Tuesday when a CJI-led bench issued a warning and suggested the Finance Committee consider regulating the flow of funds to states distributing subsidies.
"Over time, serious distortions have crept into our politics. Politics requires courage to tell people the truth. This may appear politically beneficial for the time being. Failure to address today's challenges is like passing the burden on to our children, future generations," he said. rice field.
"Generating companies produce electricity, but they do not get paid for it… just as there is condiment but no fuel to cook the house will go hungry, and no fuel the car will not run. Without it, everything comes to a halt. If one state's power sector weakens, it affects the entire country."
The distribution sector has emerged as the weakest link in the power sector, and with late payments by state governments pushing utilities into debt traps, subsidies (or free electricity) are among the major reforms. it's a hindrance.
TOI reports on 26 July how Discom will return to profitability if the state honors its commitment of 76,337 kroner in subsidies and government agencies clear the bill of 62,931 kroner estimated as of 31 March Did.
Outstanding subsidies and government bills leave Discom with little money to upgrade its network to reduce line losses in the "high double digits." Therefore, after accounting for such losses, additional power will have to be generated to meet demand, raising electricity costs for consumers, he said.
The prime minister did not name states, but his statement is seen as targeting the "unfettered power" of several local parties.
.