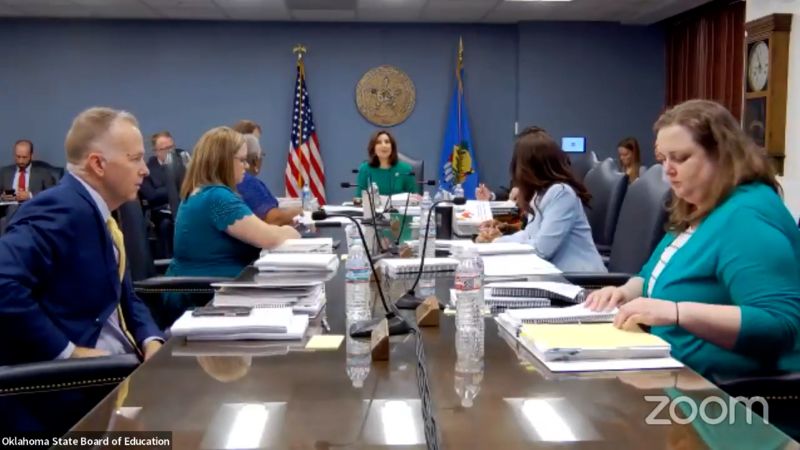 CNN
—

Just weeks after the governor of Oklahoma called for a special audit of Tulsa Public Schools (TPS), the state board of education revoked the school district's accreditation status for violating laws restricting teaching about race and gender. I voted to downvote.
In Thursday's 4-2 vote, the board decided to downgrade to "accreditation with warning" in response to complaints indicating mandatory teacher training sessions violated state law of 1775.
One teacher filed a state complaint after claiming a training video she was required to watch.
According to the state of Oklahoma, this is the first penalty imposed on districts that violate HB 1775.
According to a statement, TPS reacted furiously to the state board's decision, stating that the school would "provide our children with accurate, and sometimes painful, difficult experiences about the human experience we share." is teaching an unpleasant history," he said.
According to the bill, Oklahoma's HB 1775 does not contain the term "important racial theory," which is intended to stop discrimination. Educators teach that "individuals, by virtue of their race or gender, are responsible for actions committed in the past by other members of the same race or gender" or "individuals by their race or gender" If you are, consciously or unconsciously, "racist, sexist, or oppressive in nature," you may be subject to license suspension or revocation in accordance with the law.
According to the state of Oklahoma, the training sessions teachers complained about were "provided by a third-party vendor and took place in August 2021, before administrative regulations took effect. If found to be in violation, we recommend at a minimum labeling them as 'flawed certification'. "
TPS said it provided training that included the topic of implicit bias. However, "it is clear that no statement or sentiment is expressed that people are racist because of their race or other factors. We do not support such training in any way," the statement said. says.
In a statement to the state board's decision, TPS took aim at the governor.
"Governor Stitt's State Board of Education spent a good deal of time today talking about one teacher's complaint in our school district (among hundreds of other under-certifications statewide) and our state's It's worth noting that we haven't had time to talk about the devastating teacher shortages facing all of our school districts," the statement said.
The Tulsa School District, one of the largest school districts in the state and home to a majority of minority students, has come under scrutiny from the state in recent months, according to available data.
Earlier this month, Gov. Stitt announced a special audit of the Tulsa School District in a video message, announcing possible mishandling of public funds and raising concerns that the school district may be violating state law. He said that
"Today, at the request of two Tulsa Board of Education members, I am seeking a special audit of Tulsa Public Schools and potential misappropriation of public funds. As one of the largest districts in the state, TPS We have received more than $200 million in COVID federal relief funds," Stitt said.
In a previous CNN interview, Tulsa Public Schools Superintendent Deborah A. Gist called the governor's call for an audit "baseless accusations."
"We have good money management and there is no basis for anyone to question the management of federal funds," Gist said. "There is no evidence to support what he is saying."
"We welcome anyone who wants to come and review carefully," she said.
Late last year, a group of students and educators filed a motion challenging Oklahoma laws restricting education on race and gender. This is what the American Civil Liberties Union calls the first federal lawsuit to challenge such a statewide ban.
The lawsuit, supported by the ACLU, the Lawyers Commission for Civil Rights Under the Law, the Oklahoma State Conference of the NAACP, and the American Indian Movement (AIM) Indian Territories, alleges that it impedes free speech and education. tried to prevent the enforcement of laws that of a complete history through the framework of critical race theory.