The robbery genre has long been a staple of movies, a permanent fantasy of sharply dressed silver thieves performing brilliantly complex plots to plunder exotic MacGuffins. Disguise, diversion, stagecraft, it's an illusion.
In reality, the physical treasures that represent the cultural traditions of a country or people are often threatened by natural disasters or, darker, with the intent of a genocide. That fact necessitated the creation of Smithsonian's own rapid response task force. This is the origin story that host Lizzy Body investigates in the latest episode of the podcast "Side Door."
The special unit is called the Smithsonian Cultural Rescue Initiative. Unfortunately, its acronym SCRI is not as concise and memorable as SHIELD and SPECTRE. Even more unfortunately, SCRI's expertise is required more than ever this year.
Ukrainian cultural heritage
In February, Russia invaded its neighbors following a decades-long campaign by President Vladimirputin to challenge Ukraine's national identity. Evidence quickly emerged that it had deliberately destroyed Ukrainian cultural heritage. That month, the Ivankiv History Museum and folklore in Kyiv Oblast, northern Ukraine, were destroyed. Since then, about 500 other cultural heritage sites have been threatened by conflict, and 108 archaeological sites have been identified as damaged.
Hayden Bassett, director of the Institute for Cultural Heritage Surveillance in Martinsville, Virginia, confirmed satellite images of the Ivankifu Museum and found that nearby buildings and walkways remained intact, but the museum roof was blown away and the contents were emptied. It was burnt. "Ashes and debris are spilling out of the windows," Bassett told Peabody, explaining that the museum was nothing more than a shell. "This was a very important museum."
For the past decade, SCRI has trained military and law enforcement first responders, as well as field conservationists and other museum experts to operate in crisis and wartime situations, in preparation for this moment. I have done it. The good news is that the Cultural Heritage Monitoring Lab, a joint venture between the Smithsonian and the Virginia Museum of Natural History, still has a lot to save from monitoring about 28,000 cultural sites in Ukraine.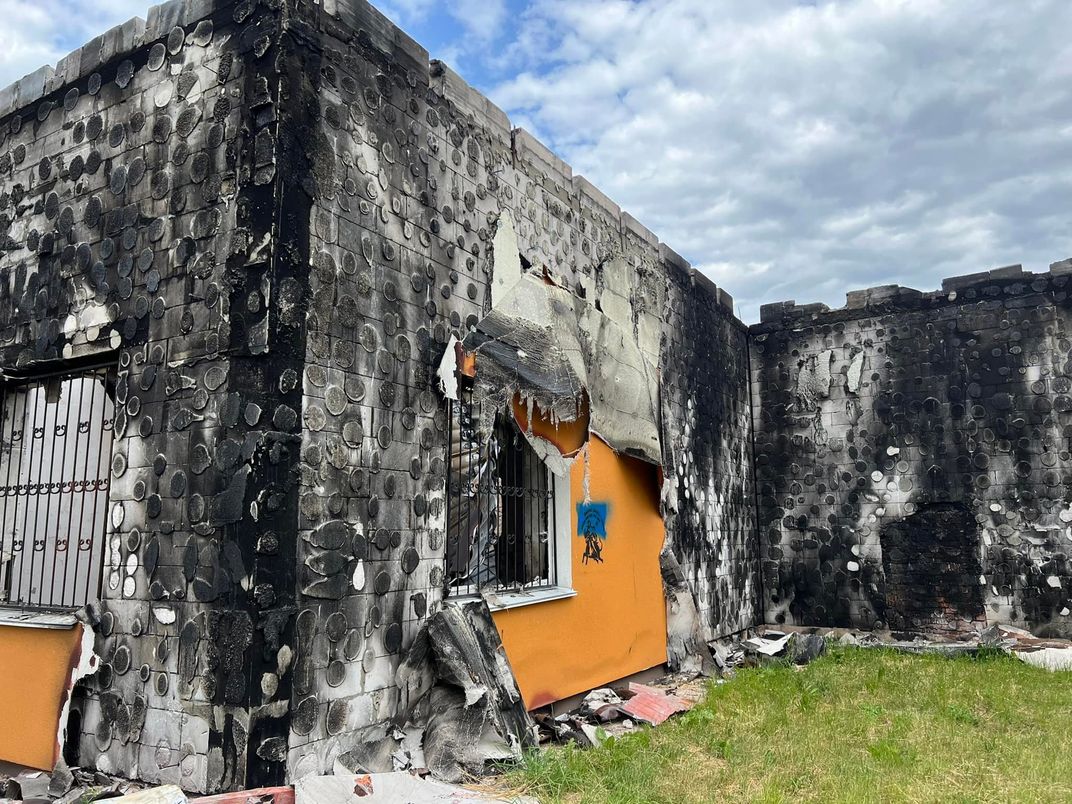 History of cultural preservation
The Smithsonian created the SCRI in the wake of the magnitude 7.0 earthquake that struck Haiti in January 2010. The catastrophic damage killed 200,000 people and evacuated more than 1.5 million people. Olsen Jean Julian, then Minister of Culture of Haiti, was told that museums, libraries and churches (all buildings that housed Haiti's heritage in the form of books, artwork and other cultural expressions) were destroyed. I realized that I was a tragic person. Tolls may be exacerbated by spiritual things.
People told Peabody, "I don't just live, I live for a reason." "Culture is the reason for living, so after trying to save people's lives, we need to try to save people's reasons for living."
Julian met Smithsonian Ambassador Richard Kurin today, who spent many years planning and producing the Smithsonian Folklife Festival at the National Mall. The two worked closely together in a 2004 festival program celebrating Haiti's 200th anniversary of independence.
A week after the 2010 quake, Klin attended a meeting of government and other officials in Washington, DC, looking for ways to help Haiti. Participants admitted that there was no choice, one by one.
Klin was amazing. Another attendee at the meeting, Cori Wegener, also holds a set of credentials that appear to be tailored to the situation. She was a curator at the Minneapolis Institute of Art and a monumental officer in the US Army Reserve. Wegener has had Klin sort out the logistical and financial hurdles of building a small tent city for the Folk Life Festival every summer at National Mall, one of the most regulated land plots in the world. I knew that I gave him a reputation as a practical matter. -Solver. But at the end of that unstimulated meeting, she was still skeptical when Klin asked Wegener to lag behind and find a solution.
"Two weeks later, we were in Haiti," Wegener says.
Together with Julian, they set up Klin's analogy to the Folk Life Festival in Port-au-Prince, establishing in Julian's words "a hub of cultural recovery to save everything we can."
The pop-up operation took the name of the Haitian Cultural Reconstruction Project, and the Haitian government asked the Smithsonian to carry it out. The $ 250,000 startup fund came from an unexpected source. The Broadway League in New York has begun to raise money to fund cultural protection. This not only provides Wegener with basic preservation to "stabilize" weather-damaged artifacts, but also urgent preservation to a group of approximately 150 Haiti representatives from various cultural institutions. I was able to start teaching. (Read this related article on how the devastation of Haiti has begun a global effort to protect cultural heritage.)
Klin and Wegener were still unaware that they had established a template for future disasters. But shortly after returning to Washington, it became clear when Klin was called by Samuel Sidibé, the director of the National Museum in Mali, another collaborator at the Old Folklife Festival.
Sidibe was hearing about the work done in Haiti. "Richard, we have a terrorist burning a manuscript in Timbuktu," Klin recalls. "I feel that our collection is at risk from terrorism. Can the Smithsonian help us?"
Klin agreed to help. And he immediately called Wegener in Minneapolis.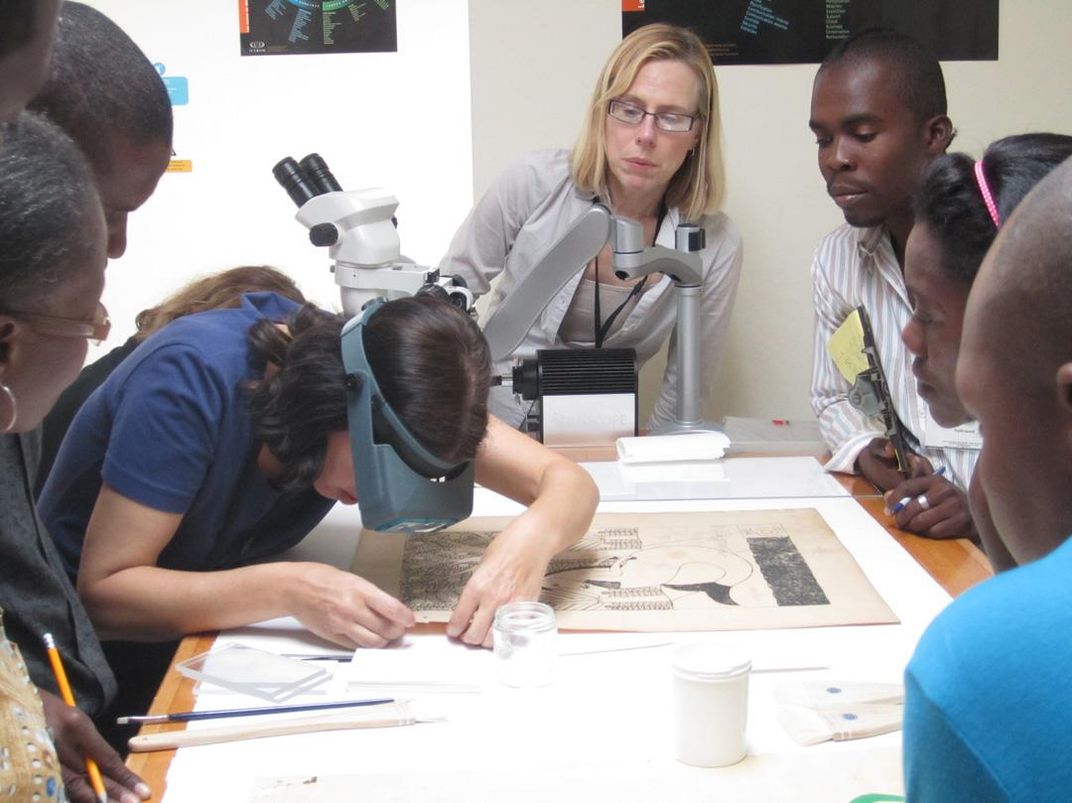 World heritage movement
Leading the SCRI has become Wegener's full-time job in operations in Egypt, Nepal and Syria over the next few years, protecting artifacts endangered by cruel warfare rather than divine acts. Wegener and her crew joined the FBI after ISIS began publishing videos of members bringing power tools and sledge hammers to ancient sculptures at the Mosul Museum in Iraq, a war crime under the 1954 Hague Convention. Trained by the Art Crime Team, I learned how to document evidence. Used in potential prosecution to enable detection of missing artifacts being destroyed or stolen and trafficked. (Read this related article on the road to Mosul's recovery.)
The first to attend the SCRI training course was Ihor Poshyvailo, director of the Maidan Museum in Kieu, the capital of Ukraine. It was 2014 when Russia annexed Crimea.
Reading the text on the wall, Posivairo began preparing for the invasion of his country and began training other curators in the Smithsonian way. By the time the Russian army arrived, he and his colleagues had already stuffed and hid their most valuable artifacts. He continues to adapt what he is taught, travels with his colleagues to other damaged museums, and saves what he can do as the Russian attack intensifies.
Wegener told Peabody that the crisis of building this kind of knowledge would not go away. But what she and Klin built from an extraordinary response in Haiti 12 years ago gave her an optimistic feeling that the various crises of the 2020s would not destroy the precious treasures of the past.
"Culture is still lost, we still have armed conflict, all of them are terrible," she says. "But in 2022, when we saw the world with hundreds of cultural experts trained in wartime response, in 2003 we could count on them. hand.. And now we have a network of this big people. And it's not just the Smithsonian — it's exercise.
""You don't have to sit down and wait for something to happen. We can make our field more resilient and keep our heritage safe. "
..