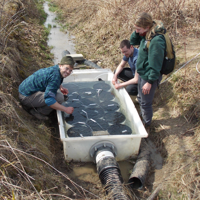 A new 'Phosphorus Sponge' pilot project in the Green Lake Basin will test the effectiveness of technology to rapidly intercept phosphorus before it degrades lake water quality.
As Green Lake's water quality deteriorates, the Green Lake Management Planning team is working to implement best-practice management practices within its 107-square-mile watershed. The accumulation of these practices will help reduce the biggest threat to Green Lake's water quality: phosphorus.
However, accelerating climate pressures relative to the pace of implementation of best management practices may not bring about improvements fast enough to avoid potential ecological tipping points. A less desirable condition in which successful intervention is nearly impossible.
In response, the Green Lake Association (GLA) will begin a pilot project this summer to test the feasibility of using field-scale technology to accelerate lake recovery.
"If we are serious about improving the water quality of Green Lake, we cannot rely solely on traditional lake management practices." It has to be part of the statue."
The technology, called "CAPTure Phosphorus Interception," is a new filtration system that will be retrofitted to the exit of an existing agricultural reservoir in the Green Lake watershed.
During heavy rainfall, these outflow structures often fail to capture phosphorus contamination. This is exactly when most of the phosphorus loading occurs.
This one phosphorus sponge intercepts phosphorus pollution originating from 96 acres before it has a chance to flow downstream into Green Lake. If the CAPTure system is successful in removing phosphorus from agricultural wastewater, GLA and its partners have identified 50 other reservoirs where a similar approach can be applied.
The project will be piloted over the next three years by GLA in collaboration with the Green Lake County Land Conservation Department and consulting firm Keyser & Associates.
This project is funded by WDNR grants and GLA member donations.
Todd Morris, county conservation officer for the Green Lake County Land Conservation Department (LCD), said:
Green Lake LCD modifies the basin and installs the system. LCD plans to make the necessary changes to the basin by October and have the system installed before next spring's thaw to maximize phosphorus recovery.
A recently completed lake quality study by GLA confirms a 50% reduction in phosphorus loading just to improve lake conditions to a minimum standard, and up to a 70% reduction to return Green Lake to a clean oligotrophic lake. and GLA and its partners are stepping into a number of phosphorus-reducing, lake-loving practices to meet this challenge.
There can be no doubt. Green Lake is a wonderful lake with serious water quality problems. By broadening its focus, GLA and its partners can better address declining water quality in lakes.
Sign up for emails from The Green Lake Association (www.greenlakeassociation.org) to learn more about this innovative technology and its progress in the Green Lake Basin.
.