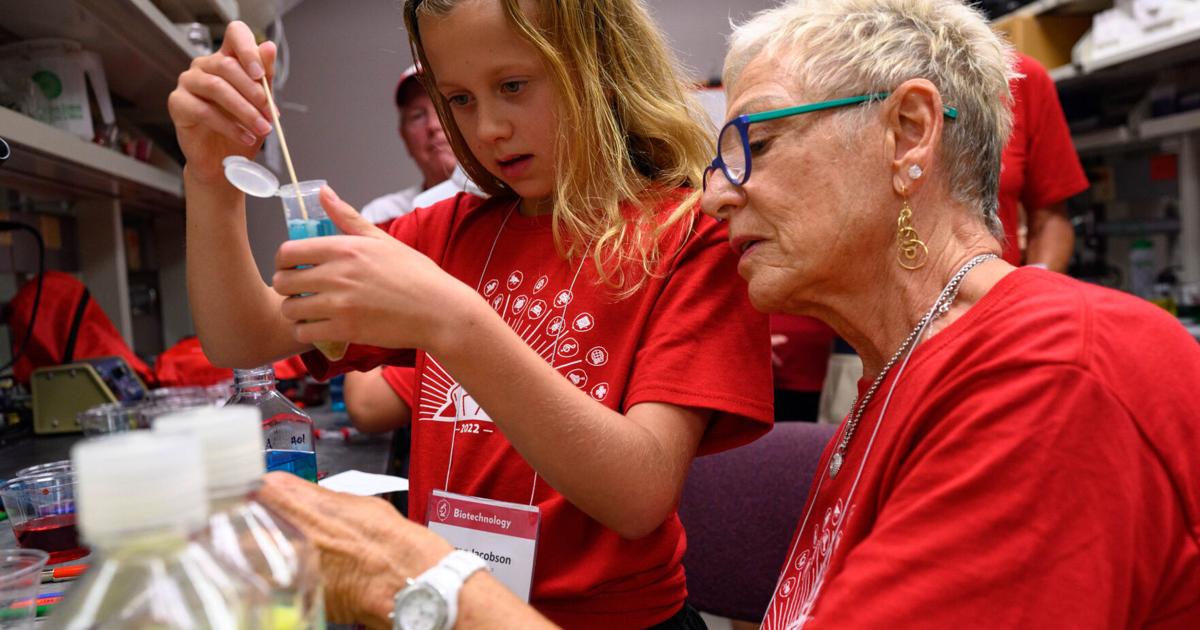 Each summer, hundreds of grandparents and their grandchildren arrive on the University of Wisconsin-Madison campus, complete with their "majors" and jam-packed class schedules.
and grandparents collegeAt the Wisconsin Alumni Association's Intergenerational Education Program, learners young and old are enrolled for a taste of campus life, the opportunity to learn from college instructors, and the opportunity to spend time with loved ones.
Program Coordinator Teri Grein said: "They get to see a lot of what the student experience is like while spending time together making special memories."
For Pat Giesfeld and her 13-year-old grandpa, Eleanor Royce, the ultimate college experience included art classes, an overnight stay at Smith Residence Hall, and waking up early to the sweet sounds of campus construction.
Offering educational activities for older participants and children ages 7-14, the program has become a beloved Giessfeld tradition. So far, she has completed her seven years at her grandparents' college along with her four grandchildren of her siblings. Her oldest grandmother is now a freshman at UW-Madison, and she is writing her admission essay about that experience.
"Seriously, this is a great opportunity to spend some one-on-one time with my nieces and nephews," Giesfeld said during a lesson on mixed-media assemblage at the Chazen Museum. "They live in Chicago, so we don't see each other very often. We don't interact much when my parents are around, so the program was a lot of fun."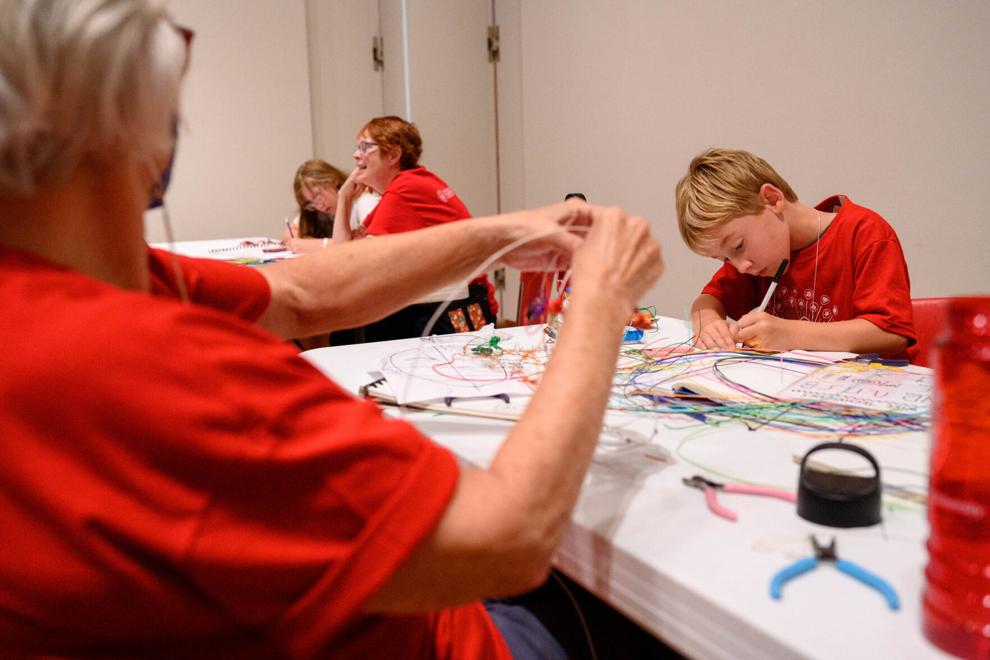 "Spice of Life"
Grandparents University started in 2001 with four majors and less than 100 participants. Now in its 20th in-person session, nearly 1,100 people have attended, and according to Grein, the program has also been adopted by more than 20 universities nationwide.
As participants get older, more than three generations of their families have completed the program, and some have passed the tradition on to their great-grandchildren.
"There's something for everyone," Grain said of this summer's camp at UW-Madison.For that 26 majors Explore everything from music and nursing to meat, soil and Antarctic science.
Each academic focus has its own set of curricula and excursions around campus. During the limnology program, students jumped on his 28-foot research boat to take water samples from Lake Mendota.For the Meteorology major, participants headed to the top of UW-Madison's It's the second tallest building and offers an aerial view of the city's landmarks.
"My wife is an artist and I'm a scientist, but she put me in an arts program while studying meteorology with her other granddaughter," he said during a session Thursday. said David Rice, fidgeting with a wire mask self-portrait. Red button nose. "I think diversity is the spice of life."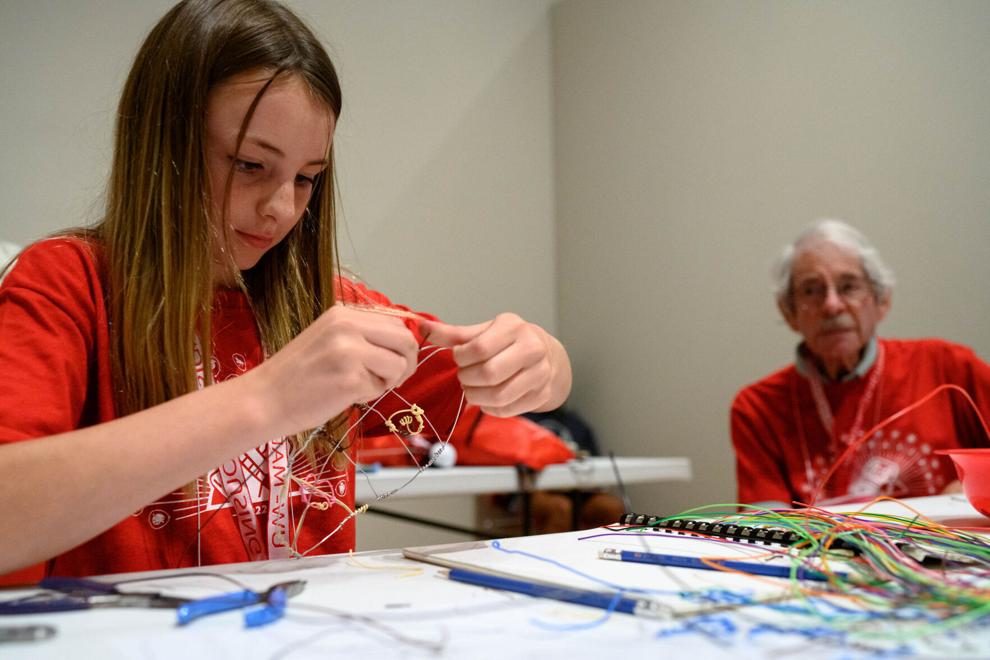 Working with him was his 11-year-old granddaughter Ashlyn Rice, who traveled from Colorado to Madison for grandparents' college and provided encouragement.
"Don't blame yourself too much!" she reminded him.
"Magical" experience
On the other side of campus, 10-year-old Ryan Shepler and his grandmother Joan Gillman shake vials of liquid as part of a biotechnology major's experiment.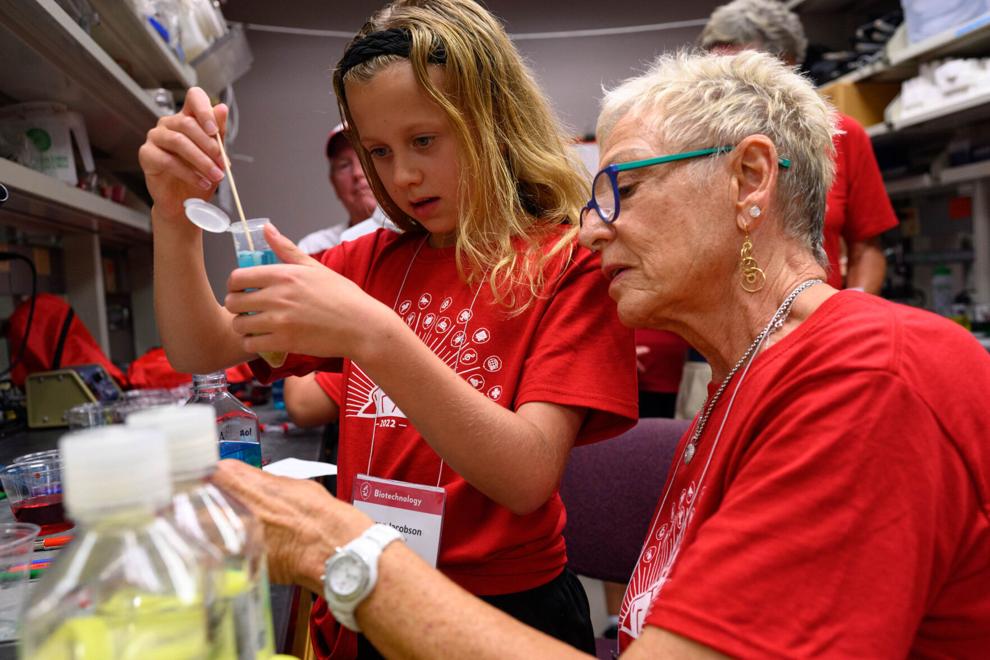 Schepler said he chose his major because of his interest in science, and his favorite project was learning how to extract DNA globs from wheat. Instructor Tom Jinnen, who has taught at Grandparents College since the program's inception, guided participants through the activity sprinkled with "dad jokes" and scientific questions to keep students engaged.
"If you could choose between a plateful of cookies and a cookie recipe card, which would you choose? Why?" he asked the class. "This is a university, so I don't want to hear your opinion. I want the strengths and weaknesses of each."
Last week, Gillman also attended a social robotics major with another grandson.After working together successfully A 12-year-old boy was overjoyed when he programmed a robot to emulate social traits.
"He was so excited. He was awesome," said Gilman. "He got that video. I said to him, 'Turn on this video whenever you're sad.'"
The ability to reach people in both childhood and adulthood is what makes Grandparents University unique, added Tod Pritchard, director of media and public relations at the university. Wisconsin Foundation and Alumni Association.
"Intergenerational learning is magic," he said. "Everyone is learning here, young or old."